Upon arriving home
When taking your new Greyhound home, please bear in mind your dog will never have been in a home environment before. Your dog will settle at its own pace and there needs to be no rush. At your side is whe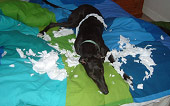 re they want to be. Remember, they will become a precious part of your family. Enjoy the experience of seeing them grow from a kennel dog to a family pet. They will bring you great joy!
Domestic appliances which are commonplace to us, such as vacuum cleaners, washing machines, TV etc. will be alien to them and may initially spook them. Upon arriving home, take the dog straight into the garden or designated toilet spot, wait until they relieve themselves and then praise them profusely. Use their name, tell them good boy/girl and reward them with a small piece of cheese or biscuit (whichever you are using for training purposes). Repeat this process every hour or so for the first day and then get into a routine of letting them out – ie before meals and straight after meals.
Then take your dog around the house on the lead initially so they can see everything in a calm manner. After 10 minutes or so, take the lead off and sit down, letting them roam around on their own. By this stage the initial excitement will have worn off and they can snoop around calmly. Set the house rules from day one, so they know what they can and cannot do, and ensure all family members are familiar with these guidelines or the dog will become very confused about its role.
Their first few days in this alien world can be quite daunting for them and they may become anxious. Keep in mind the size of the busy, noisy kennel you have taken the dog from and the quiet, new, small world you are introducing them to. Signs of anxiety are pacing, panting, diarrhoea, not eating and drinking and whining at night when left alone. Anxiety can be shown through destructiveness. Please be patient while your dog adjusts. Night-lights and low volume radios left on can help the dog not feel completely alone in the dark.A DAP™ diffuser can also help calm your dog.