Adopting a Greyhound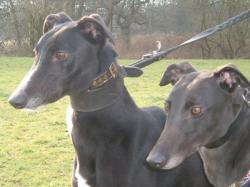 Greyhound Trust Wolverhampton is one of over 57 branches of the Greyhound Trust which cover the whole of the U.K., all of which have problems with rehoming 'black beauties'.
View all our Greyhounds that are available for adoption here...
Right this moment we have gentle, docile, small animal tested and unraced hounds that would be ideal for any family situation, be it a family with young children or mature owners, but they are continually overlooked because of their colour.
If you and your family are looking for a retired greyhound and you have no particular preference with regard to colour, PLEASE, PLEASE consider one of our 'black beauties'.
You can browse our selection of retired dogs that are currently looking for a new loving home, see a picture of them and find out basic information like their age, colour and sex.Welcome to the Homing section here is where you can look for your perfect new friend. Like all of our hounds, all our 'black beauties' want is a loving family home. Please help our kennel make a difference to their lives.
When you find a dog you like, you can find out more information about them or how to adopt them by giving us a phone call or sending us an email.
All greyhounds from Greyhound Trust Wolverhampton are:-
Neutered
Vaccinated
Flea Treated
Wormed
I.D. Microchipped
You also receive

1 weeks free food
Walking lead and collar
4 weeks free Pet Insurance
We also provide a full follow up and support service.
All we ask is you let us visit you for a homecheck and you give us a donation to help us continue to find loving homes for our greyhounds.
Please note: The dogs shown on these pages may not reflect the complete compliment of Dogs awaiting Adoption in the kennel. Hounds are coming and going all the time so if you don't see a hound you like; still check with the kennel staff as there may well be others in the kennel that would be a perfect match for you.
Disclaimer: Greyhound Trust Wolverhampton cannot be held responsible for the accuracy of information about dogs for homing on the website as this information is invariably passed to the Trust by a third party.